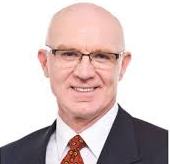 Former racer Derek Daly is suing WISH-TV for $25M, but can he prove defamation?
Feb 11th, 2019 by ibjpodcast
Just days after filing a defamation lawsuit seeking more than $25 million from WISH-TV, Derek Daly sits down with IBJ's Anthony Schoettle to discuss what he says the news station got wrong in a story that accused him of using a racial slur.
Daly tells IBJ what he wants most is an apology and a retraction from WISH, which fired Daly — its former racing analyst — and broadcast a story that connected him to the use of a racial slur that had led Colts play-by-play announcer Bob Lamey to retire.
It's a complicated situation, but Anthony draws out the details from Daly. And then he talks with Steve Key, the executive director of the Hoosier State Press Association, about whether Daly has a case.
You can get more details about the lawsuit from Anthony's Feb. 7 story.
Note: After this episode was recorded and posted, Daly amended his lawsuit and removed the $25 million figure. Read more about the change here. 
Share
|
Download