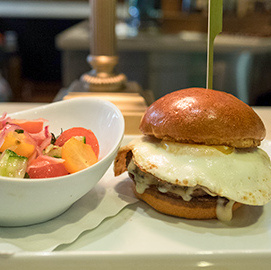 IBJ Podcast: St. Elmo co-owner Craig Huse on the condition of Circle Centre, Burger Study and expansion in Fishers
Jul 8th, 2018 by ibjpodcast
The restaurants operated by Huse Culinary — St. Elmo, Harry & Izzy's and Burger Study — are among the most successful in Indianapolis. That's despite decreased traffic at Circle Centre mall and increasing competition from other steak houses downtown. CEO Craig Huse talks about the changes he'd like to see at the mall, how the restaurants combat competition and the company's expansion plans in Fishers.
To read more about Circle Centre's current financial situation, read IBJ's story: Circle Centre profit gets lift from eateries, IPS tax cut.
Credits:
Music by Eerkoysh key by Gnagno (c), copyright 2013. Licensed under a Creative Commons Attribution license. http://dig.ccmixter.org/files/Gnagno/44380
Audio clips from WRTV-Channel 6 and Parks & Recreation (NBC).
Share
|
Download