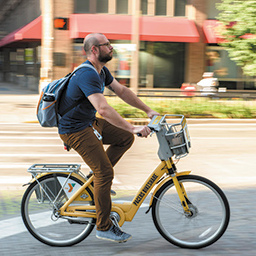 Indy's Pacers Bikeshare program is undergoing its first expansion—and it's a big one
Dec 10th, 2018 by ibjpodcast
Indiana Pacers Bikeshare will spend $1.2 million — most of the money from a federal grant — to nearly double the number of stations and expand the program's footprint as far north as Broad Ripple and south as Garfield Park.
Kären Haley, executive director of the Indianapolis Cultural Trail, which oversees the bikeshare program, talks with guest host Anthony Schoettle about the timeline for the expansion and why it was important to locate stations outside of downtown.
And she explains why attracting more low-income riders — who pay only $10 a year — is a key goal. 
Check out IBJ reporter Susan Orr's full story here.
Share
|
Download