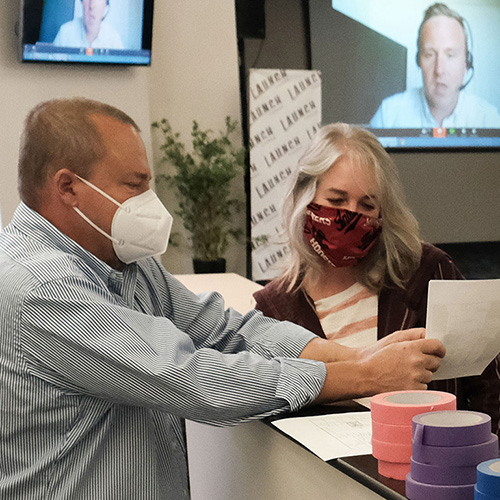 What will restaurants, offices look like when economy reopens?
Apr 26th, 2020 by IBJPodcast
Last week, Indiana Gov. Eric Holcomb told businesses they needed to start planning to reopen, although he didn't set a particular date—or, what's probably more likely, a schedule of how restrictions gradually would loosen. That process could start as soon as early May.
So, what do companies and restaurant think reopening will look like in a world still very wary of the coronavirus pandemic? How do they envision minimizing the risks for their employees and customers? Should restaurants still allow patrons to wait in lobbies? Should they be required to wear masks? How many people should be allowed in an elevator at once? Or in the office bathroom? Will 6-foot-tall cubicles make a comeback?
For this week's edition of The IBJ Podcast, host Mason King and reporters Anthony Schoettle and Mickey Shuey focus on two of the biggest workplace sectors: offices and restaurants. There's precious little consensus about the necessary precautions, although most decision-makers agree that we won't get back to anything resembling "normal" until there's a vaccine. And that could take a year or more.
The IBJ Podcast is brought to you by the law firm Krieg DeVault.
Share
|
Download